wild
herps
Siphlophis compressus
—
Red Vine Snake
Also known as:
Tropical Flat Snake, Red-eyed Tree Snake
Some authorities place this snake in a monotypic genus Tripanurgos.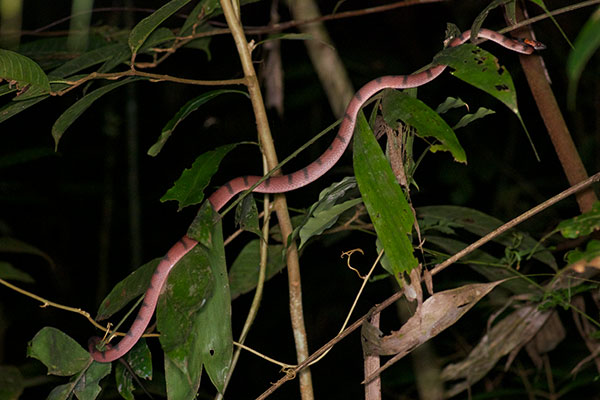 This is a beautiful, nocturnal, arboreal snake. It is (according to what I've read) not commonly found, but in the tropics this does not necessarily mean that it is not common. It might just be hard to notice as it blends into the vines and lianas. This individual was found by one of the
MT Amazon Expedition
staff, probably Edvin, king of Peruvian snake-finders. We asked him what kind of snake it was and he said, or we heard, "Red Wine Snake". Red, red wine. Alas, it was a mispronunciation, or a mis-hearing.
Here is a complete list of the herps I saw in the wild on my 2014 MT Amazon Expeditions trip.
Cliff Bernzweig found this young vine snake crawling across one of the small wooden bridges that cross the numerous streams at Santa Cruz Forest Reserve. This was later on the same hike where he had previously found a
Bushmaster
. Not a bad night for tropical snakes.
We brought the snake back to camp so everyone could see and photograph it the next day. That's when I took these pictures. It was later released where it was caught.
My Travelogues and Trip Lists page includes a complete list of the herps I saw in the wild on my 2016 MT Amazon Expeditions trip.
Matt Cage and I found this snake crawling in the vegetation, as is typical. It did not want to sit still for a photo, but Matt can tame even the squirmiest snake with his calming personality.
Printed references: