wild
herps
Oxyrhopus petolarius
—
Banded Calico Snake
Also known as:
False Coral Snake, Forest Flame-snake, Calico Snake
There is disagreement among herpetologists about whether the correct name for this species is
Oxyrhopus petola
or
Oxyrhopus petolarius
. I'm using
O. petolarius
in keeping with
The Reptile Database
.
Subspecies I've seen:
O. p. digitalis
Banded Calico Snake
Oxyrhopus petolarius digitalis
—
Banded Calico Snake
Adults of this species typically have black and red bands, but juveniles like this one have black and white bands.
Here is a complete list of the herps I saw in the wild on my 2014 MT Amazon Expeditions trip.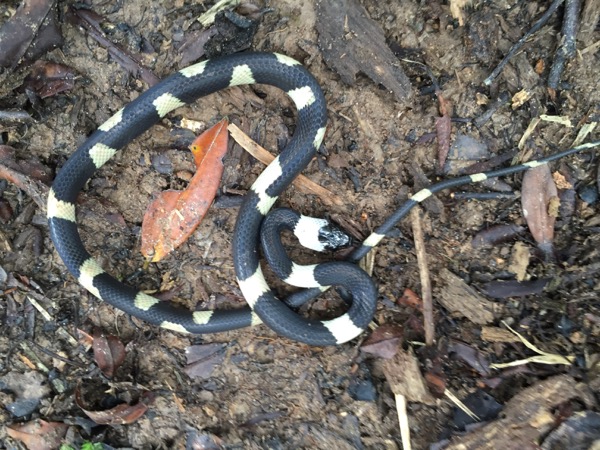 On our last night at Madre Selva, I went out for a long hike with Raul, the caretaker of Madre Selva, and Emerson, an employee of MT Amazon Expeditions who among many other talents is an excellent herp finder. Emerson spotted this young snake on the ground, and quickly captured it so everyone could photograph it the next day. I had wanted to photograph it where it was found, but I was slightly too late for that. At this point the snake had gotten all wriggly and unwilling to sit still in the forest. My poor consolation prize was this photo of it coiled around a stick.
The next morning I could have joined in on a group photo session with the snake posed on the ground, but my heart wasn't in it. I just took a couple of snapshots with my iPhone as a memento of what it looked like from above.
My Travelogues and Trip Lists page includes a complete list of the herps I saw in the wild on my 2016 MT Amazon Expeditions trip.
Online references:
Printed references: