wild
herps
Thamnophis cyrtopsis
—
Black-necked Gartersnake
Subspecies I've seen:
T. c. cyrtopsis
Western Black-necked Gartersnake
Thamnophis cyrtopsis cyrtopsis
—
Western Black-necked Gartersnake
Roger Repp found this pretty young Black-necked Gartersnake shortly after finding a pretty young
Banded Rock Rattlesnake
. Being a Tucson denizen, he quickly lost interest in this commonly seen species. I on the other hand had never seen one, so, along with Chicagoan Ralph Shepstone, I hung around trying to get this one to pose while Roger moved on to the
next exciting herp
.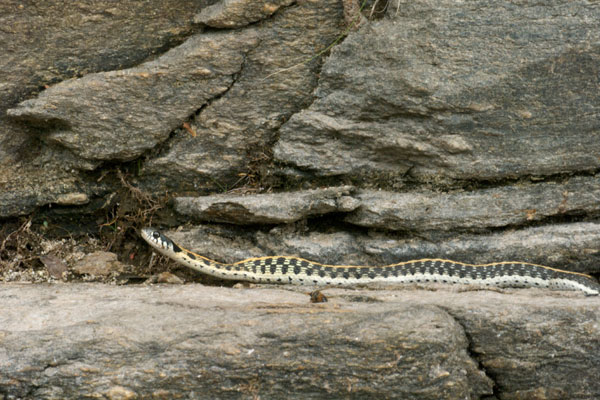 I had seen gazillions of tadpoles and dozens of
treefrogs
in the remaining pools of a mostly-dry Sabino Creek and I thought that there just had to be gartersnakes around here somewhere. After chasing a
tree lizard
around on the granite boulders near the creek, I looked down and saw this guy posed alertly below me, keeping an eye on the water below it.
I carefully snuck back the way I had come, climbed down, and took a wide circle to approach the snake from the front, across the narrow creek. When I got a few feet away, it started to move and I thought I had spooked it. But a moment later it lunged at something, and came up with a frog in its mouth. I wasn't quick enough with my camera to get a photo with the frog visible, but I got a few shots of the frog lump as it slid down the snake's gullet.
A minute or two after snarfing that hapless frog, the snake moved a couple of feet forward and took up another ambush pose as shown in this last photo. A couple of minutes after that, it made another lunge at a treefrog on the rock, but this time the frog leaped away and the off-balance snake slipped off the rock and into the creek. It swam over to the water's edge immediately and paused there, trying hard to project an air of "I meant to do that!".
On our warm-up night in SE Arizona before heading south into
Sonora
, Gerrit Jan Verspui found this big gartersnake while a bunch of us failed to find the
Arizona Black Rattlesnakes
that we were looking for.
Printed references: