wild
herps
Rhinocheilus lecontei
—
Long-nosed Snake
Also known as:
Longnose Snake
We saw three of these attractive snakes by flashlight at night, two adults and one juvenile. All three were still for several minutes before meandering off.
My sister and I went out in the evening with the intention of hiking around in some sand dunes to watch all the animals that make those cool little tracks that one sees in the morning when hiking in sand dunes. Unfortunately the parking area that we had scoped out earlier in the day was now filled with off-road vehicle enthusiasts and their giant RVs. We then made a very poor choice of alternate location to pull over, and ended up getting stuck in the sand. An hour or so later, with the help of the very off-road vehicle enthusiasts who were camped out where we thought we were going to park, we were moving again, but my sister's car was now emitting some unpleasant smells and sounds. We just wanted to leave sand dunes and off-road vehicle enthusiasts behind, and headed straight back to our campground.
On the way back, we saw this one beautiful snake in the road. I jumped out to corral it while my sister idled the car for fear of it giving up the ghost altogether. The snake was not very cooperative, and I couldn't spend much time trying to coerce it to pose, so this is the best photo I ended up with.
After five or six nights of road-cruising for
snakes
and
geckos
in and around Anza-Borrego Desert State Park, I had seen six long-nosed snakes, but all of them had been dead on the road. I was coming to the conclusion that long-nosed snakes always move on the roads early in the evening when there are still a lot of cars about. However, on my last night of road-cruising, I finally found this live long-nosed snake, and it was at about 10:30 PM when the temperature had dropped below 60 degrees and all the other snakes had gone back to bed.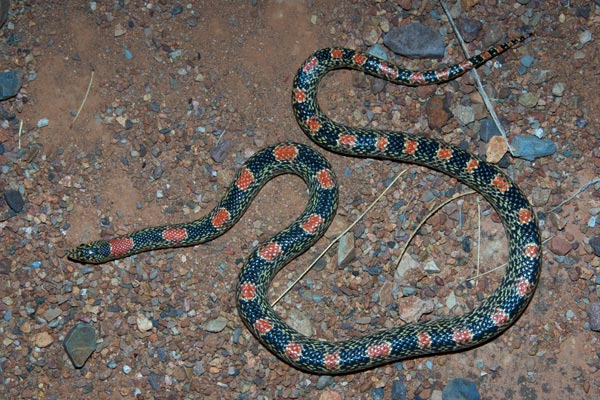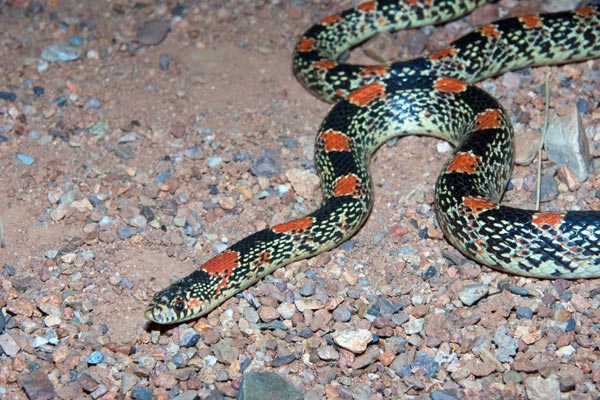 My final road-cruised snake this evening was this lovely long-nose. My knowledgeable friend Roger Repp had predicted earlier that given the weather conditions, I should expect to see snakes on the road no later than 8:30 PM. This one appeared at exactly 8:30.
This was a very beautiful snake, but it was not willing to stop moving. Since I didn't particularly want to spend any more time with the plentiful Border Patrol agents on this road, I just got a few lame photos and moved on.
A night of road-cruising for snakes was cut short due to unexpectedly heavy and long-lasting rains, but not before this beautiful Long-nosed Snake put in an appearance.
Printed references: