wild
herps
Pogona minor
—
Dwarf Bearded Dragon
Also known as:
Western Bearded Dragon
Subspecies I've seen:
P. m. minor
Dwarf Bearded Dragon
Pogona minor minor
—
Dwarf Bearded Dragon
We saw several of these Dwarf Bearded Dragons in a few days in the Shark Bay area, all of them basking in the sand near the side of a road. They're called Dwarf Bearded Dragons because they're smaller than most of the other bearded dragon species, such as the
Central Bearded Dragon
. However, they are still impressively large compared to the average North American lizard.
Their "beards" are also significantly smaller than most of the other species; more of an exaggerated 5 o' clock shadow really.
Here is a complete list of the reptiles and frogs I saw on this trip to Western Australia.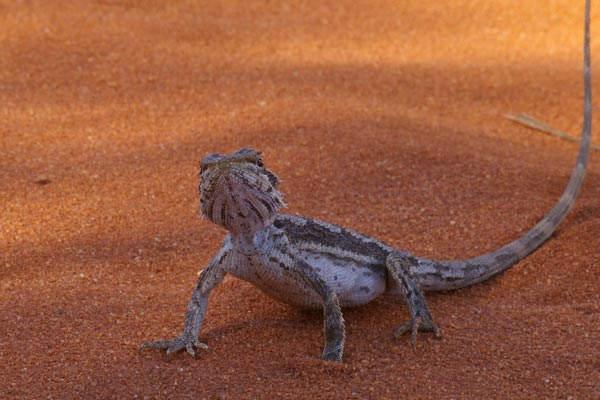 Here's another pair of Dwarf Beardies in sand along the side of a road, in this case a dirt four-wheel-drive track leading through Peron National Park.
This dragon was wearing its darkest colors and flattening itself out in order to catch the last warming rays of the afternoon sun.
I've written up an account of this three-week trip to Australia here.
This rather scrawny looking dragon was sitting in the median of the paved road into the parking lot of Yulara's little shopping center when I first saw it. I parked my car, grabbed my camera, and headed back to discover that it had run across the road and was now in a thin strip of ornamental rocks next to a building wall. This did not seem like the best habitat, and perhaps helps explain the scrawniness.
Printed references: