wild
herps
Nerodia fasciata
—
Southern Watersnake
Also known as:
Banded Watersnake
Subspecies I've seen:
N. f. confluens
Broad Banded Watersnake
N. f. fasciata
Banded Watersnake
N. f. pictiventris
Florida Watersnake
Nerodia fasciata confluens
—
Broad Banded Watersnake
Louisiana has a lot of swamps, ponds, and bayous, which are home to a lot of water snakes. Our brief visit corresponded with unseasonably cool weather, and I only managed to see this one snake in a couple of days.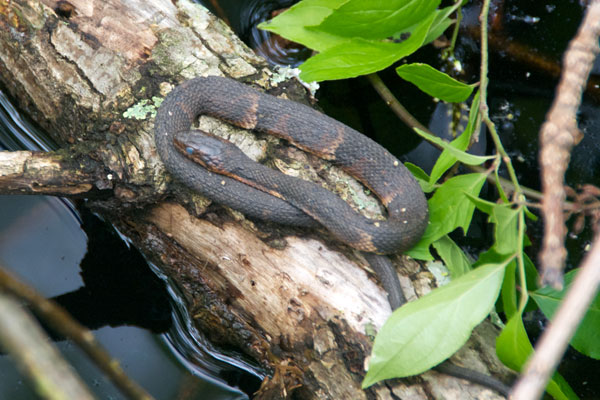 This park has a decent-sized boardwalk across a beautiful swamp that on a good herping day is no doubt crawling with watersnakes of all shapes and sizes. This day wasn't a great herping day, but we did see this one cute little guy patiently awaiting the day its skin would finish shedding.
Nerodia fasciata fasciata
—
Banded Watersnake
Our dog
Tina
found this snake as we took her and the rest of our canine clan around a KOA campground for a twilight walk. Tina wasn't sure whether or not it was something to worry about (she is a worrier), but I recognized it as a non-venomous water snake and got a couple of terrible photos before it slithered back into its hiding place in a little clump of vegetation.
This is a terrible picture of an impressive but quite shy snake. There's a big snake in this photo, I swear.
Nerodia fasciata pictiventris
—
Florida Watersnake
My first two Florida Watersnakes were this pair, basking in branches a foot or two above an eddy in Turner River. My wife and I were in our inflatable kayak, and the snakes were good sports to stay put while we tried to maneuver the kayak near enough and steady enough for halfway decent handheld shots.
Florida Watersnakes are plentiful at Corkscrew Swamp; I saw five on this day. The very young ones have prominent banding, as in the first photo here. When they get older the markings fade and the adults often appear nearly patternless.
The popular Anhinga Trail looks like the perfect place for watersnakes, and it has signs mentioning watersnakes, but I had looked there in vain for snakes many times in the past. At long last I saw a young snake hunting in the water, but it disappointed me by slipping out of sight before I could get a photo. Twenty minutes later I returned to the same spot and found that my snake friend had taken a break from fish hunting to bask in the reeds at the water's edge.
I watched this young 'un swim around slowly for about ten minutes in one of the larger ponds along the side of Loop Road.
These snakes are easy to find crossing the road on warm Florida nights.
This was a particularly large and dark individual enjoying the warmth of the road.
I don't get out to Florida as often as I used to, but whenever I do I make sure to spend at least one night looking for wildlife along the main road at Everglades National Park, and I never come up empty. This is perhaps one of the least exciting snakes to see there, but it's still a perfectly worthy snake.
A youngster and an oldster found near each other on the road. The youngsters have much more pronounced patterns, though even the oldsters have strikingly beautiful bellies, hinted at in this photo.
Printed references: