wild
herps
Intellagama lesueurii
—
Water Dragon
This species has been reclassified many times. It has spent much of its existence in Physignathus, but has also been placed in Lophura, Istiurus, Iguana (!), Amphibolurus, and Istiurus. Perhaps it has settled down in Intellagama, but I wouldn't place any bets on that.
Subspecies I've seen: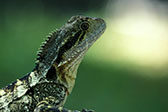 I. l. lesueurii
Eastern Water Dragon
Intellagama lesueurii lesueurii
—
Eastern Water Dragon
This young water dragon kept us entertained while we were waiting (in vain) for a glimpse of a platypus. It would bask for awhile on a partially submerged branch, then dive into the water, grab some insect, and swim back to the branch for further basking.
Here is a complete list of the reptiles and frogs I saw on this trip to Australia.
on grounds of Australia Zoo, Beerwah, Queensland, Australia
—
February 17, 2003
Eastern Water Dragons are very common up and down the east coast of Australia. We saw a number of them living wild on the grounds of the
Australia Zoo
near Brisbane -- the zoo owned by TV's Steve Irwin, aka the Crocodile Hunter.
These dragons are common in the greater Sydney area, but on this particular trip I wasn't in the right places to see many of them. In fact I saw only this one. It had been on the road, but ran off when it saw our car coming, pausing in the roadside vegetation just long enough for me to get this one picture.
Printed references: