wild
herps
Gopherus agassizii
—
Mohave Desert Tortoise
Also known as:
Desert Tortoise, Agassiz's Desert Tortoise
At long last, after many visits to Desert Tortoise Natural Area over the last three years, I finally saw a tortoise. This female is probably about 40 years old, based on her size. When we first saw her in the morning she was lying still, basking in the sun. Later we found her strolling purposefully about, chomping on the sparse grasses and other plants.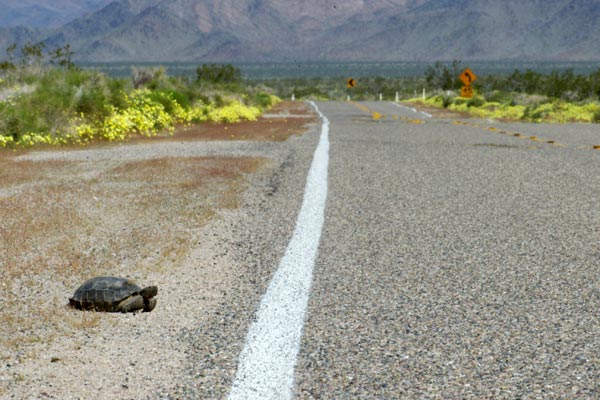 Even for desert tortoises in the midst of the best spring wildflower bloom in decades, it seems that the grass is always greener on the other side of the road.
During the springtime at least, the Desert Tortoise Natural Area has a resident naturalist who helps educate visitors, keeps an eye on the place, etc. This spring the naturalist was Lisa LaVelle, who was kind enough to point out this big fella lurking in an area where she had been seeing it recently.
Online references:
Printed references: