wild
herps
Arizona elegans
—
Glossy Snake
Subspecies I've seen:
Arizona elegans candida
—
Mohave Glossy Snake
Very hot, dry, and windy conditions made for a poor evening of snake hunting. All I saw was this handsome adult glossy snake and one smaller individual.
Arizona elegans eburnata
—
Desert Glossy Snake
We found this snake crawling across a road at about 9:00 PM. Glossy snakes look like smaller, less strongly-patterned
gopher snakes
. They're nocturnal in the deserts, and tend to burrow rather than hiding under rocks and things, so you're very unlikely to see one by day, at least so says
Stebbins
. I had certainly never seen one by day, anyway.
In addition to looking like smaller, less strongly-patterned
gopher snakes
, young glossy snakes also look like only slightly differently patterned
nightsnakes
. At least these two did, at least to me. Shortly before I saw the first of these two snakes on the road at night, I had seen a
nightsnake
, and these two were very similar in same size, shape, color, and pattern to that little guy. Only when I was looking at the photos after returning home did I get suspicious, and I got some help from the friendly folks at
fieldherpforum.com
to clarify the identities of all three.
This large glossy snake was the first live snake I found on a second night of road-cruising in Anza-Borrego. After I pulled over and took a few photos on the road's shoulder, another car pulled up and a voice within asked what kind of snake I had found. I think this was the first time I've ever encountered fellow herpers out in the field. I guess I need to get out more.
The fellow herpers turned out to be San Diego locals Jeff Lemm and Steve Steward, who were much more familiar with the area than I was. After chatting for while, I ended up following them around for an hour or so, during which time they found two red diamond rattlesnakes and one southern pacific rattlesnake on the road.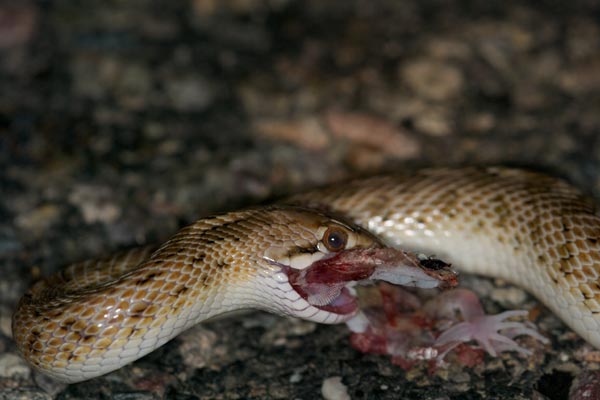 Around Borrego Springs there were many
Western Banded Geckos
on the roads at night, and just enough cars to flatten a subset of those geckos. It seems that they taste just as good when flattened.
Here's another large glossy snake from a couple of nights later. This one wasn't munching on any two-dimensional lizards, but was certainly healthy and well-fed anyway.
Yet another Arizona elegans eburnata from the same trip, a few nights later. This one was remarkable primarily because it was crawling across the road pretty late at night when the temperature had dropped to 60°, which is quite cool for these desert snakes.
This little tyke was the last snake I photographed before the friendly ranger informed me, in no uncertain terms, that it is a federal offense to be using a flashlight or even car headlights to find wildlife in a national park.
My first Imperial County glossy snake! (Is this actually something to be proud of? No. No it is not.)
Arizona elegans noctivaga
—
Arizona Glossy Snake
About half an hour after spotting a
gopher snake
on the road, I had turned around and was returning across the same stretch of pavement when I spotted a snake of about the same size and shape in about the same location. I first thought it was the same gopher snake out on the road again, but a closer look showed that it was this fairly similar-looking species.
Arizona elegans philipi
—
Painted Desert Glossy Snake
Printed references: